Frigidaire Makes Home Comfort a Priority
Although the Frigidaire brand is new to the Tucson A/C market, rest assured, this is a company that has been around for a long time. Founded in 1916, Frigidaire has long been a leader in the refrigeration industry and is known for building reliable and efficient heating and cooling systems.
What Makes Frigidaire Different From Other Options?
Demand Flow Technology
Frigidaire tests each and every furnace and air conditioner before they are shipped to customers. These tests are not done at random but instead each unit goes through a triple check at each production station throughout the entire production process. This is called Demand Flow Technology and it means that each split system is checked 144 times, each gas furnace is checked 234 times and each package unit is tested 72 times. No other manufacturer has such a thorough quality control process.
Comfort Quality Pledge
Not only does Frigidaire focus on quality during production, they also back it up with a proprietary warranty called the Comfort Quality Pledge. This is a Frigidaire exclusive warranty that protects your unit for 10 years and it states that if within the first 10 years the compressor or furnace heat exchanger fails, Frigidaire will replace the entire unit.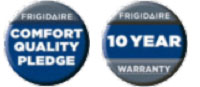 iQ Drive
If you want an efficient heating and cooling system Frigidaire has the right unit for your home. Frigidaire heat pumps , air conditioners, gas furnaces and gas package units in the iQ line have inverter-driven technology. These units have a rotary compressor that modulates the unit and delivers quiet and efficient performance. The iQ line delivers up to 25.5 SEER and the FT4BI heat pump has been awarded "Top Choice" by a leading consumer magazine!